As the new year has dawns on us.... we wake up to new resolutions and new beginnings... reinforcing the stronger aspects of our lives and giving us a new reason to carry on ..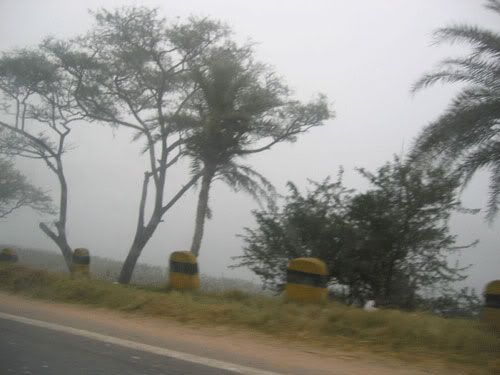 Weekend found us driving to a lake in
Bethmangala
... which was devoid of any water.. but the land itself was beautiful.. so what if there was no water... The ride/drive was organised by the
International Federation of Motorcycle Rotarians
... ( I guess thats the name) and it had all senior guys experiencing the pleasure of the ride.. and we Baruas .. typically are ready to go for any ride.. so out we went... :) Karnataka is amazingly beautiful in the winter mornings.. and the landscape though startk has a beauty of its own and the sun shines through the nook and corners of the rocky mountains.... of
Kolar
...
here are a few shots from that place

On the way we entered the
Koti Linga
temple which houses more than Thousand Shiv lingas.. and it was a sight to see.. I think this is the only place in the world which had so many Shiva Lingas arranged in the fashion it was..
Here are a few shots !!
Anyway as I was wandering clicking away to glory.. I came across a
deadly guy
who was a walking talking
GIVE ME RED
ad... LOL...which had me arrested and I could not help but see
red
everywhere... I had to take a shot of that brillantly dressed fella.. who in turn suspected me of the dirty deed of stealing a shot... and almost caught me
red
handed...but I managed to escape by pretending to click another shot and giving him a snooty look.... Sheeesh !! you have to see it to believe it... Ahem !! I am sure all my friends have celebrated new year in the best way possible and I hope you had great fun. I wish you all the good things in this new year and may all of you achieve what you have set to achieve this year... As for me.. its just another day towards building a better life and moving on with my dreams..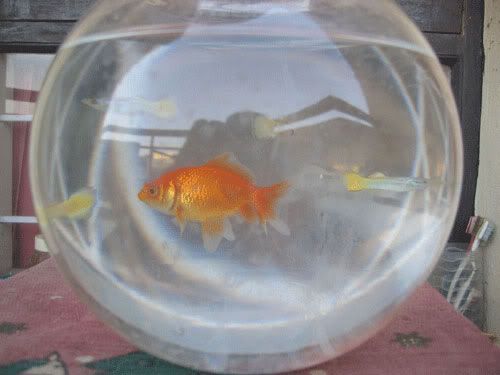 As I was pondering over whether to keep a fish as a pet, in comes my neighbor with whom I have a helping understanding.. as in
you help and I help
types... she asks me to look after her gold fish which really looked cute.. except that it was being pestered by the five tiny fishes with angry pecks who thought that it served the giant fish right to eat their food.. LOLOL.. I guess its strength and bravery in numbers.. kind of case... something new to start the new year with... fishyyyyyy... tale !!! he he he
Thanks a lot
for reading my previous post and responding to it through comments or through helping accordingly.. I have personally gone to the centre for delivery of the supplies.
Prakruti Mudra
delivers the supplies to the effected areas every alternate day with the help of our friends in Bangalore and they are doing well.. it was really great seeing the helping hands of so many ... They are going to
Cuddalore
,
Nagapatnam
,
KanyaKumari
, etc.
As per their feedback,
clothes are more than enough everywhere... people have the option of choosing from brands... :). STOP donating old clothes... ready made food is not welcome.. Uncooked food items like rice or dal is more helpful to them... Medicines are very much needed.. especially for children.. Please donate Bottled Water and Old vessels.. as much as you can. Vessels are something which is hard to find now.. Bleaching powder and Phenyl bottles are needed. The more the better.

Immediate medicines required are as follows. Paracetmol Brufane Amoxycillin Ranidin (stomach pain, vomit) Antacids ORS powder Tetramycin eyedrops Multivitamins Norfloxacin (diarrhoea) Dichloromine Derephyllin Tabs T.NORINS-TZ for adult (diarrhoea) NEGAMAT suspension syrup for child (diarrhoea) You could reach it to

Prakruthi Mudrana, 51, 29th cross, 9th main, Banashakari 2nd stage, Bangalore -70 (Next to GK Kalyan mantapa, Monotype) Contact persons; Usha: 92431 02232, Uvaraj -9448371389, Deepu-9448367627 Do get in touch with them as soon as possible if you think you can help them.

Thanks a lot...
Pet expressions
are very speaking and it says a lot of things if you are into animals and love animals... as I was just going about my daily routine... last week, I got to capture some beautiful shots of stray dogs which I feed and the birds which I talk too... LOLOL here are some shots from a section which I call
Animal Expressions...
call me crazy but all these make life worth living..