Yes I am back ... and I am having a bittersweet feeling in me... I would have loved to be enconsced in the arms and loving warmth of my family and just do nothing... but all good things have to come to an end and well so here I am and I must tell you that I did not miss being online at all.. made me feel as if I was back to the good old days where even telephone conversation was a luxury only few could afford and we had all the time in the world with people to talk to... and so many things to do... Some momentary shots as I whizz by my memory cells.
For a moment......
while driving from
Assam
we thought that the 50 odd kilometers of clean and quiet green highway was absolute heaven with not a soul around even to farm.... when we very rudely realised (after being stopped by the cops) that it was because there was some stupid Bandh declared somewhere in the middle of the highway... which made us go back all the way home... Sheesh...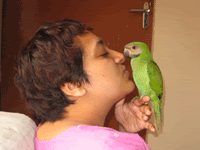 I thought that there could be nothing better than a kiss from my parrot
Kuku
back home... and he is a handsome one at that... he knows what LURVE is and he laps it up.. it is a different thing that his sole pastime when he is bored is to open all buttons earrings and rings... but I got a way to get him not to do that with me... I touch his tail... which is the weakest spot and he is affronted... to say the least.... and he understands that he needs to keep away from my rings and buttons... buhahahah ... what communication can do ... and parrots are intellident souls... I must say...
heres more on kuku..
There was nothing better than spending my time catching up on my reading.... near the window as the rain pelted down giving some relief to the humidity and the heat... and Kuku quietly going to sleep standing on my chest as he watches the rain.. ah bliss... I could not envision any other life other than being with my family dining, talking, laughing, doing trivial things with them.... or just having a cup of tea and sharing gossip... until I was jolted... back to reality..... I thought that a dearly beloved uncle who till that time was a walking talking fit man would just pass on right in front of my eyes and in my hands without us being able to do anything about it... thank god that it did not happen but will never forget fear in my heart... my heart almost stopped beating seeing uncle almost giving up.... I experienced the intense combination of heat, humidity, rain, clouds, cold... all at one go and I ended up flat in bed with illnesses having some LONG NAMES. I have yet to recover my voice... My colleague humorously says to me now that he wished that I spoke so softly always... HUH ... so soft that I cannot even hear my own voice... go figure... LOL My wonder of being in a cloud and actually driving through dense cloud on a mountain on our way to
Darjeeling
... changed into horror and put me on the edge after going through the same BLOODY cloud for two hours... one can take in the clouds only for some time.. I found back my clogged brains ( read ears and nose) after two hot dishes of momos... I thought that our driver was crazy when at
Mirik Lake

,
( which was incidentally covered with thick
cloud
( not fog) he asked us to go further ... and see the lake... I was almost screaming at him... WHAT LAKE??? ... ALL I CAN SEE IS WHITE ALL AROUND... and If I move 2 inches away from you... you TOO are INVISIBLE... He refused to believe me and told me to go further... well I just gave up... ( at the risk of walking myself in the lake) We touched both Bangladesh border and Nepal ... (as we passed
Fatak
on our way back from Darj.. to
Mirik
. ) Believe me my fellow travellers... this road to Darj and back is much safer and sceanic than the usual one... It was like going back in history while walking down the streets of
Cooch Behar

.
Here one can actually experience the glory of the royal family and how the Rajah served his subjects... a small quaint town with its own language and style... and so charming... I felt that
Darjeeling
is not a place to go as a tourist... it stinks when it comes to tourism... but I think it will be a great place to be with friends or on your own ... mingling with the people... I for one am going back with a totally different plan this time... I was almost pleasantly blinded by the amount of greenery in Assam and
West Bengal
... Kerela guys you must see that green.... I do not say your green is bad but our green is also awesome... It is the right time for the paddy fields and it is as if you are floating through wide stretches of green velvet... ooohhhh I thought that
Kolkatta
is going the Bangalore way when I saw so many flowers and trees planted across the roads... until my friends told me that it was only in the bypass.. well at least its there... the bypass drive is awesome... in Kolkatta...
TO BE CONTINUED........