Never thought I would say this.....
But its a beautiful Monday !!!! yay yay yay !!! Ok I am feeling quite hangoverish ... so maybe I am a little hazy from all the highway riding... and am in this blissful state of feel good feeling... he he he After having a wonderful time traveling.. doing this that.... ( ahem all that will be posted up soon.. I am dying to post...) it feels good to be back... Waiting for the next trip no doubt.... which is on sometime in November...
Some stray thoughts
The
ECR
( East Coast Road) is one of the best roads in India I think... I have never seen more
crocodiles
than this Saturday ....in my whole life .. and this has not changed my outlook towards reptiles.... I like them more in that Ausralian guy's show....
YIKES.... BRRRR
The fishermen in
Mahabalipuram
are the friendliest and gentle people I met... Solo riding has its advantages... this was our first solo ride...
Kanchipuram
has one of the more beautiful skylines... ... tall trees scattered with lines of temples... its a great old city... Solomon, my friend, is a great artist...
AWESOME
... he specialises in Ajanta Cave paintings... and I have fallen in love with them.... you rock my friend... here is a sample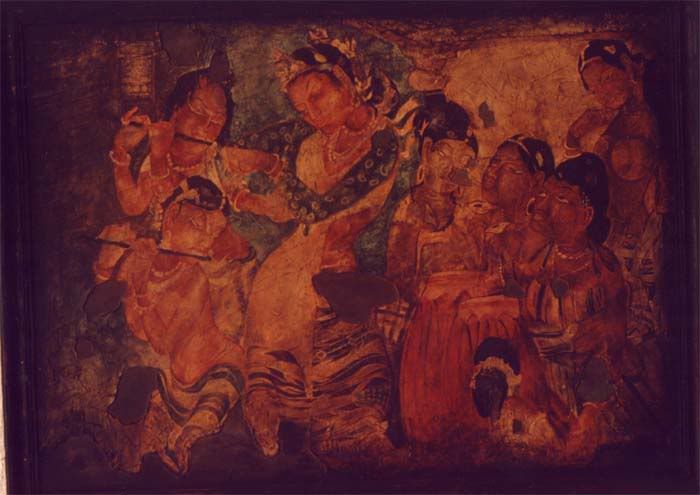 Dodo
.. thanks for the wonderful Chennai hospitality... We owe you one !!! If you are in Chennai, you have to have meals in
Ponnuswamy
in
Eggmore
... am gonna write a review on that soon.... Never thought that I would say that but
Chennai
at this time is pretty
cool
... weather wise... hehe .... Chennai does not smell like Mumbai... ( have not got used to the Mumbai smell as yet :( ) .. no offence intended to mumbaikars... as my mumbai loving husband says... I got to get used to it... I think I am hooked to Sex and City... episodes...
Royal Enfield Factory
in Chennai is amazing... I have to post up pics of how the bike gets finsihed from a skeleton to a mean machine.. found that fascinating... Dodo has the pics... waiting for him to upload it .... The way to the factory in
Thiruvattiyur
,.... ( I hope I got the name right) SUCKS big time... but the end result is worth it ... We have touched three states... this weekend ,... Karnataka, Tamil Nadu and Andhra Pradesh... The sole hut before reaching Palamner, AP was one of the most friendliest couple I met... Having a conversation with a
marathi truck driver
an old
Tamilian man
( who did not know a word of Hindi or English) and an
old lady
who was busy keeping peanuts in the basket for the day but was never too busy to make me feel welcome in that little hut... was one of the best times I had on the highway.... Humanity will never be extinct... no matter what... it just takes some moments to restore it....
Signs Seen on the highway
Take BYEPASS
Restorent...
Chaines Restorent here
Start BARLY reach SAFELY....
I absolutely love....
Sunset by the highways...